All our foals are truly "Imprinted" at birth which makes them better partners!!!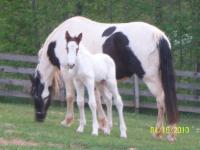 FOR SALE:
Mtn View Villara, Coming 2 year Filly, Homozygous Black Tobiano Swedish WB out of Donnermeyer and IV Hoag's Chasity. Stands currently at 16+ hands, and will easily mature to her Dam's height of

16.3+ hh. New pictures below!
Here's Villara after her 1st bath of the year. What a good girl!! Villara is definitely an "In your pocket" kind of filly.
Above Villara at 1 year old and below at 5 mo. old.
Villara is as sweet as she is gorgeous, so refined and such elegant movement. She loves attention! (8/8/14)
Here are the 3 Amigos:
Mtn View Lazaro (Spotted Draft 2-Year Old Gelding), Castlebar's Anakin (Spotted DRUM 2-Year Old Gelding in the middle) and our 3 Year Old stallion---Mtn View Tuxedo Joe (DBL Homozygous for Black and Tobiano) Joe will make some gorgeous foals!!
Black and White Tobian

o Yearling--Mtn View Lazaro Showtime--

(Foaled 5/18/13) shown below. Lazaro has been gelded and will easily mature over 17 hands. His full sister Oreo was 17 hands at 3 years old and he's almost there.

Mtn View Castlebar's Anakin DRUM Gelding, foaled 3/28/13 Here's Anakin's cool video:

http://youtu.be/jpwEqf1D7lo
Anakin is registered with IDHA and should mature to about 17 hands





SOLD...
Mtn View OREO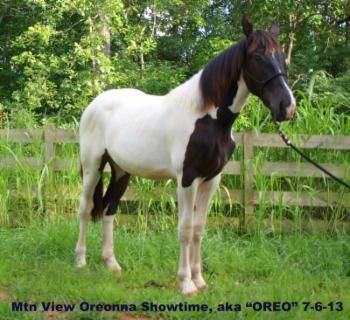 SOLD - Mtn View Ginger Kisses
Nicely matched brother and sister team, Ginger and Samson, photos taken May 5, 2013

Mtn View Isis - SOLD!!!

Isis is a Cuddle Bug
video