All our foals are truly "Imprinted" at birth which makes them better partners!!!

FOR SALE:
Mtn View Villara, Homozygous Black Tobiano Swedish WB filly out of Donnermeyer and Hoag's Chasity. Should mature easily 16.2
Villara is as sweet as she is gorgeous, so refined and such elegant movement. She loves attention! (8/8/14)
Here are the 3 Amigos:
Mtn View Lazaro (Spotted Draft Yearling), Castlebar's Anakin (Spotted DRUM Yearling) also our up and coming resident stallion---Mtn View Tuxedo Joe (Two year old DBL Homozygous Spotted Draft stallion)
Black and White Tobian

o Yearling--Mtn View Lazaro Showtime--

(Foaled 5/18/13) shown below. Lazaro will be gelded and will easily mature over 17 hands
Mtn View Castlebar's Anakin DRUM colt, foaled 3/28/13 Here's Anakin's cool video:

http://youtu.be/jpwEqf1D7lo
Anakin is registered with IDHA and should easily mature to 17 hands


SOLD...
Mtn View Oreonna Showtime, aka "OREO" shown

below

at 5 months old(10/6/12) and at 14 months old(7/6/13). she is a gorgeous, sweet Black Tobiano, Premium NASDHA filly. Already Oreo leads well, ties, is used to having her feet trimmed,
enjoys daily massages and grooming. Oreo really loves having a shower!!! At 1 year old, she already stands at 15.3 hands and will easily mature 17+ hands.
Mtn View OREO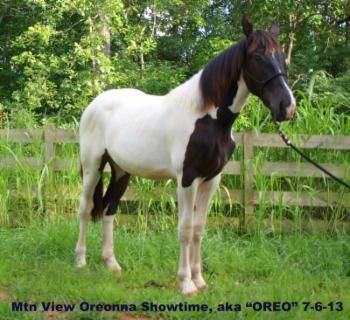 SOLD - Mtn View Ginger Kisses
Nicely matched brother and sister team, Ginger and Samson, photos taken May 5, 2013

Mtn View Isis - SOLD!!!

Isis is a Cuddle Bug
video